IZBOR GLAZBE
1. GLAZBA ZA VJENČANJA :
AVE MARIA – F. SCHUBERT
AVE MARIA – BACH-GOUNOD
WEDDING MARCH –F. MENDELSSOHN
BRIDAL CHORUS (LOHENGRIN)-R. WAGNER

AIR- J. S. BACH
PRELUDE IN C- J. S. BACH
LARGO (OMBRA MAI FU-XERXES)-G. F. HANDEL
LASCIA CH'IO PIANGA (RINALDO)-G. F. HANDEL
TRUMPET TUNE
(THE PRINCE OF DENMARK'S MARCH)- J.CLARKE
CARO MIO BEN – G.GIORDANO
AMAZING GRACE
ZDRAVO, DJEVO ...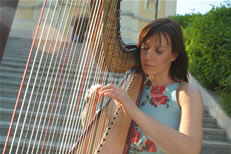 2. PRIJEDLOG GLAZBE ZA EVENTE:
LOVE THEME FROM «THE GODFATHER» - N. ROTA
OVER THE RAINBOW «THRE WIZARD OF OZ» - H.ARLEN
MOON RIVER «BREAKFAST AT TIFFANY'S» - H.MANCINI
MY HEART WILL GO ON «TITANIC» - J.HORNER

WHEN I FALL IN LOVE - VICTOR YOUNG
STAR DUST- H.CARMICHAEL
WHAT A WONDERFUL WORLD – G.D. WEISS-B.THIELE
GEORGIA ON MY MIND- H.CARMICHAEL
KILLING ME SOFTLY...- CH.FOX
MISTY – E.GARNER
SMOKE GETS IN YOUR EYES – J.KERN
NIGHT AND DAY – C.PORTER
SUMMERTIME – G.GERCHWIN
EVERGREEN – B.STREISAND.....